Item A7002U-W Birthday Dot Die Cut
A7002U-W - $0.78 - $0.94
1 of 6


---
Item View
Description
This card features a die cut window.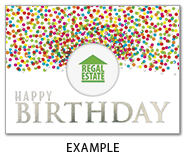 Your logo will shine in the center of this die cut birthday card. Featuring silver foil stamping on matte FSC® certified paper.
Includes 26 white envelopes for every 25 cards ordered.
Card Size: 7.5" x 5.5"
Text
Exterior Text: Happy Birthday

Interior Text: Select a verse, create your own custom verse, or order blank.
---