Item TT2020 Timely Topics Tent Calendar
TT2020 - $1.52 - $1.68
---
Item View
Description

This handy spiral-bound 2020 tent calendar features humorous cartoons drawn by Posty Cards' artist Adam G. The easel design puts the calendar and your imprinted name on your customer's desk all year long. Printed on 30% recycled, FSC® paper.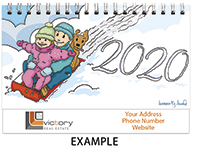 Our Standard Deluxe Desk Calendar stays upright on any flat surface and is made with high quality twin loop binding so pages flip easily. The calendar features 13 months starting with a December 2018 bonus page. The calendar is 13 pages front and back plus the cover. Includes up to 6 lines of FREE imprinting (3 on each side, 30 characters per line). Also includes FREE standard envelopes.
Each month features a seasonally appropriate, humorous cartoon and monthly planners on the back of each page allow room for notes.




Monthly planning page: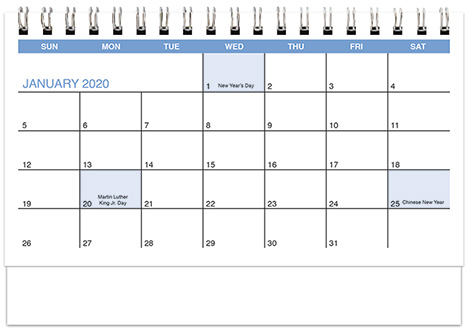 Mailing Requirements:
If you need to know the postage rate before you mail, we strongly recommend that you order a free sample and take it to your local post office for a postage quote. The desk calendars are a borderline size and the amount of postage charged varies depending on the measuring method used.
Card Size: 6.5" x 4.5"
---