Item AO802 Premium Birthday Assortment
AO802 - $59.00

---
Item View
Description
A premium birthday assortment pack of 50 cards featuring foil embossing on high quality matte paper. Includes 4 of our most popular birthday cards, and comes with gold foil lined envelopes.
Sorry, personal imprints are not available on assortment cards and envelopes.
Includes the following cards:
15 - Colorful Wishes A7006G (7.5" x 5.5")
Verse: …and best wishes for happiness in the year ahead.

15 - Happiest Birthday A7008G (7.5" x 5.5")
Verse: Sending many cheerful wishes for a birthday filled with happiness!

10 - Birthday Cupcake A7013G (5.5" x 7.5")
Verse: Wishing you a day filled with special moments to enjoy and remember.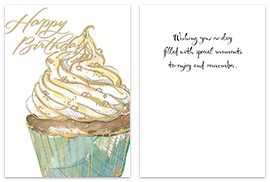 10 - Elegant Dots A8000G (7.5" x 5.5")
Verse: Sincere wishes for a wonderful birthday and a year of good health, happiness and success.