Item C9129T-A Evergreen Pocket Calendar
C9129T-A - $0.58 - $0.73

6 of 6

---
Item View
Description

A holiday card with a pocket calendar featuring snowy evergreen branches and printed on satin FSC® paper. Includes a perforated 2020 wallet reference calendar with your name and contact information printed on the back. Your imprint appears under the verse and on the back of the calendar when it's separated from the card.
Perforated punch-out calendar on back: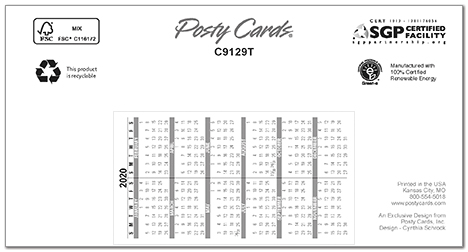 Includes 26 white envelopes for every 25 calendars ordered.
Card Size: 6.5" x 3.5"
Text
Exterior Text: Season's Greetings

Interior Text: Have a happy holiday season and a wonderful new year.
---