Item D1339U-4B Bright Lights Photo Card
D1339U-4B - $1.05 - $1.20

---
Item View
Description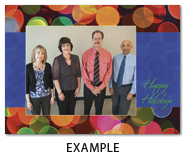 The bright lights on this photo card will make a great impression. Printed on FSC® certified paper.
Your photo will be printed in full color in the space provided. As an added value when you order photo cards, you get:
FREE Upgrade to Full Color Card Personalization (a $0.24 per card value) - add your logo or signature inside cards in color. Select "Yes" for card personalization and select one of the color ink options at no extra charge. Your cards will be discounted in the shopping cart.
FREE Artwork setup for the front of the card (a $25 value)
FREE extra envelopes - 26 white envelopes for every 25 cards ordered
Card Size: 7.5" x 5.5"
Text
Exterior Text: Happy Holidays

Interior Text: Select a verse, create your own custom verse, or order blank.
---